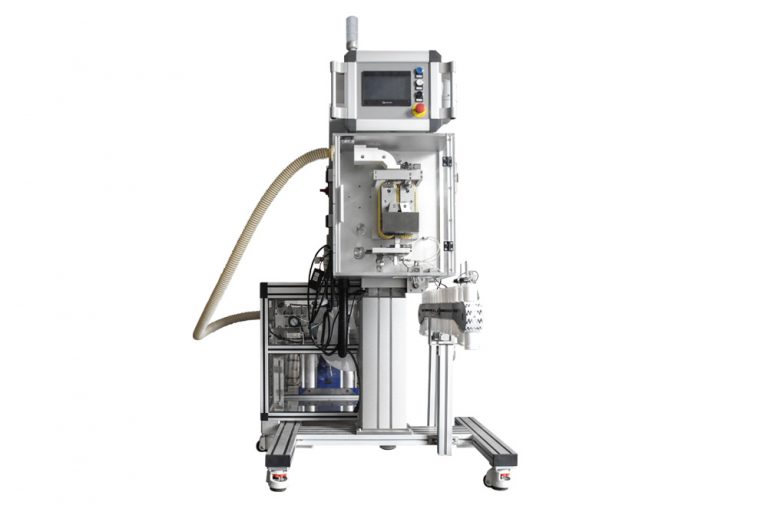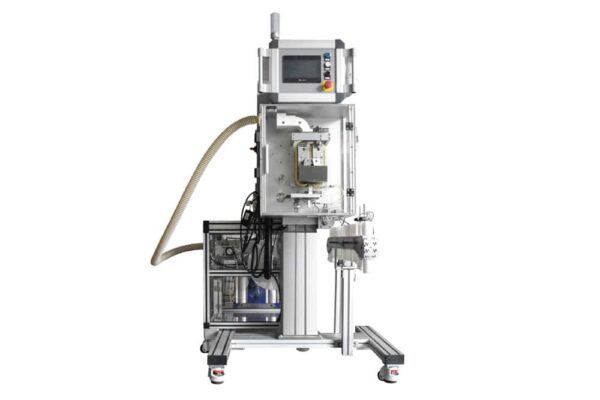 Cutting & Dispensing Machine Turnover Type

For WiseMini® Strip Desiccant
This model utilizes our vertical type-cutting machine and combines it with a mechanical hand device. It consists of a frame, feeder, monitor, PLC, lift column, cutter, pick & place arm and other inner machinations. It works seamlessly with our WiseMini® Continuous Desiccant and ensures continuous recognition of cutting marks and senses the joints of continuous desiccants. Meanwhile,it can be integrated into any production line thanks to its streamlined operation, it dispenses desiccant into the assigned position precisely with a cutting and dispensing speed that reaches up to 150 packs per minute. It is a great machine for dispensing desiccant automatically into packaging such as those commonly used in the medical and food industries.
Product Information
Industry Videos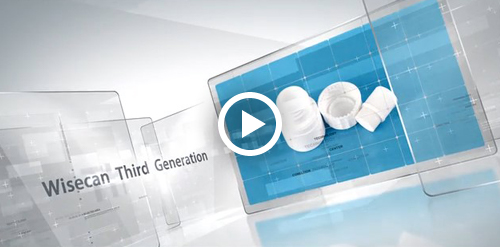 1. Why use a Turnover Style Cutting and Dispensing Machine?
The 180 degree swinging arm that grabs and dispenses the desiccant allows the machine to dispense
desiccants into products so that the conveyor belt the products are on can be to the side of the
cutting and dispensing machine. This saves an enormous amount of space in terms of machine
placement.
2. How do you ensure each desiccant strip is cut and dispensed properly?
4 sensors ensure the following: The 1st: Checks for the transparency its cut at, The 2nd: Checks each
strip is at proper length. The 3rd: Checks for the bag's correct thickness. The 4 th : Ensures each
desiccant is dispensed into one product at a time.
3. What type of desiccant strips work with your cutting machine?
By default, any desiccant strips that are housed on a reel can be used with our cutting machine, it
works best with our WiseMini® Strip Desiccants and others with transparent edges and ultrasonic
sealing. Hole Punch desiccant style strips can also be used.
4. Is a drybox included with this machine? What is a drybox used for?
A drybox is included with this machine and is used to control the environment the desiccant strips are
stored and dispensed in. This way when using the cutting and dispensing machine, the desiccants will
not have to absorb any moisture before being packed inside the product.
5. What is the maximum size of desiccant strip this machine can cut and dispense?
This machine can cut and dispense a desiccant strip reel from as light as 0.25g desiccants to a
maximum of 5g.
6. How does the swinging arm grab each desiccant without damaging it?
A small amount of air pressure is used to create a small suction-like action that grabs the
desiccant without applying physical pressure to it.
Model: WISEPAC
Classification: WSQJ-03 Automated Dispenser Turnover Type
Speed: 150bags/minute
Cutting Objects: Continuous small pack
| wdt_ID | ITEM | ITEM |
| --- | --- | --- |
| 1 | Name | WSQJ-03 Automated Turnover Dispenser |
| 2 | Working Pressure | 0.8~0.9Mpa(3.5KL/min) |
| 3 | Cutting Speed | 150 bags/minute |
| 4 | MODEL | SH-FMJ70-04-01 |
| 5 | Noise Level | ≤50dB |
| 6 | Net Weight | 420Lbs/190KG |
| 7 | Electricity | VAC 220V/50HZ |