Smash Humidity with Wisepower!
The Wisepower Series: both high absorption and high performance series, are two innovative desiccants developed and created by us here at Wisesorbent. Both are chemical based absorbents and are some of the strongest moisture adsorbents on the market. Each Wisepower desiccant also utilizes Tyvek 2B style packaging which allows for superior breathability and overall protection. The raw materials themselves also have two layers; this allows for maximum saturation without the fear of any sort of leak or breakage should they become full of liquid/water. In this way, the Wisepower series is not only a great resource for moisture control but a very safe one as well. Further still, they all contain an adhesive back, allowing for simple application and easy installation.
What Differentiates Wisepower's two brands?
Although both the high performance and high absorption Wisepower desiccants are excellent for moisture absorption in the transportation of goods and industrial field, they also have key differences between one another. First and most importantly, the high performance desiccants contain magnesium chloride and is optimal for garments and computer hardware and microchips. Meanwhile, the high absorption series uses calcium chloride and is great for almost any industrial application and are particularly utilized for long-term use with ever changing humidity and environments. Both absorb at rates of over 200% when relative humidity rates are particularly high. The high performance desiccant has even been recorded at absorbing at over 340% when temperatures and humidity are particularly high (38C and 90% RH). Overall, they are both amazing and on the cutting edge of the desiccant industry. Safe to say, one should go with the High Performance series when transporting electronics and sensitive equipment in very hot and humid environments. Meanwhile, the high absorption series should be used during long modes of transport (such as shipping containers, long truck deliveries, etc.). All in all, they are amazing at what they do and can be applied to almost any situation that encounters intense humidity situations.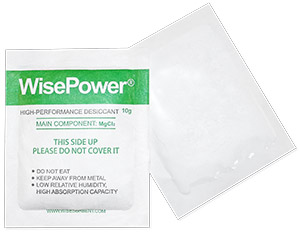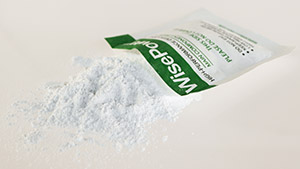 Wisesorbent: A Company you Can Trust
Wisesrbent is not only at the forefront mosture protection innovation but we also strive to give our customers and partners the best service possible. Regardless, of a simple question about our desiccants or dispenser machines or a maintenance request for our machines and their upkeep, we are always available for a helping hand. The Wisepower Desiccant Series is something we have worked very hard on and are happy to share whatever information possible to ensure that you are using it to their fullest extent and taking advantage of the features and attributes they contain. So harness the power of Wisepower and remember to always "Absorb Wisely, Rest Assured".