Wisesorbent's time at WestPack 2019 in Anaheim, California made a big impact on the packaging and desiccant world. Our team was busy throughout the week meeting and greeting visitors to our booth who were interested in a wide variety of what we had to offer and showcase. Naturally, the machines were a big hit and people loved learning about how they worked and that they were running all day long for all the trade show to see and admire. One of the biggest announcements at this show was also the new overhaul of the pharmaceutical desiccant line along with the new innovations coming later this year.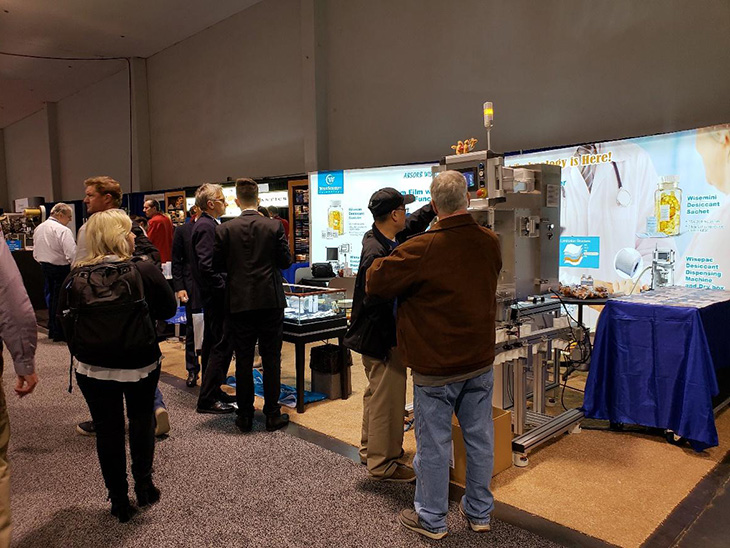 The innovation in question that had the most people thrilled was our aluminum desiccative film that is currently patent pending and will be available for sale later this year. People were amazed, a foil packaging for blister packs that protects medication from both the outside environment and humidity inside the packaging itself? Not only that but it also can be used for powder packaging as well, such vitamin C and protein powders for example, eliminating the need for traditional desiccant bags in the packaging all together! It was amazing to hear about this innovation for many and we will definitely be exploring all its applications as we get closer to launching it to the public very soon.
Being at the tradeshow in California one of the biggest markets in the United States and even the world as a whole, we were visited at our booth by all types of industries. As many know we are very popular with the pharmaceutical, diagnostic reagent and nutraceutical world already. It will be very interesting to see how our moisture solutions can help improve the quality, shelf life and even overall safety of these industires and further and other areas as they evolve and innovate as time goes on.
With 100s of visitors to our booth this year at WestPack 2019 we are glad to have met everyone who came to visit our booth, be sure to stop by the site each week to hear more updates and trade show announcements!