We are thrilled to announce the official launch of our brand-new Humidity Control and Temperature Monitoring App, revolutionizing the way you manage humidity and monitor temperatures. Whether in product manufacturing or environmental control, this app becomes your dependable companion, ensuring that everything maintains the ideal humidity and temperature levels, guaranteeing product quality and stability.
Effortless and Efficient Desiccant Calculation
Say goodbye to guesswork! Our app effortlessly calculates the required desiccant quantity based on crucial data like space dimensions and target humidity. By eliminating guesswork, the app ensures efficient humidity control.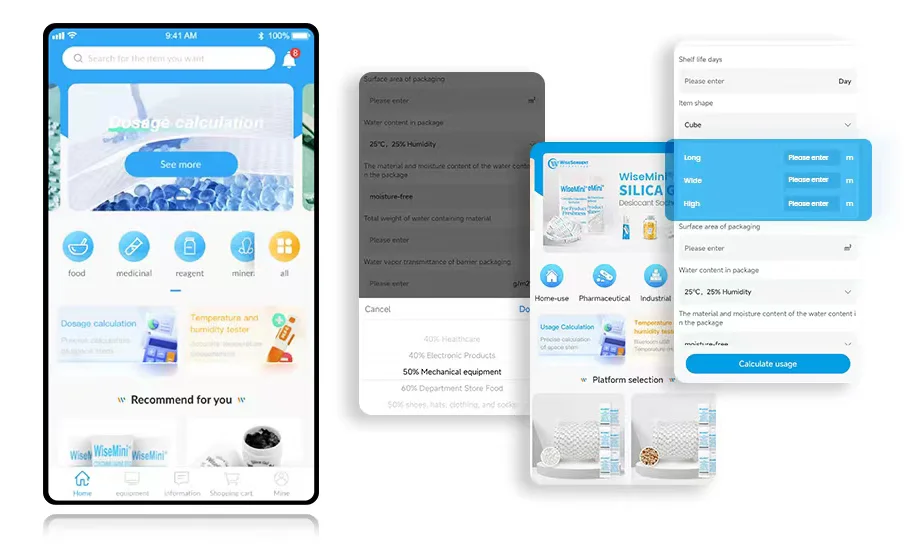 Real-Time Temperature and Humidity Monitoring
Stay in the know about temperature and humidity fluctuations. The app offers real-time temperature and humidity recording through a Bluetooth-connected data logger. You can access historical records, charts, and reports within the app, gaining insights into temperature and humidity changes, enabling timely actions to preserve product quality.
No need to search around. The built-in online store offers a variety of home and industrial-grade desiccants in various specifications. Whether you're an individual or a business user, finding suitable desiccants has never been easier, simplifying the purchasing process.
Enhanced Humidity Management and Environmental Monitoring
This app becomes your reliable assistant for humidity control and temperature monitoring. With its powerful features, you'll optimize humidity management and gain a comprehensive understanding of environmental changes, empowering you to make informed decisions.
Experience the Future of Humidity Control
Download our app now and experience the future of humidity control and temperature monitoring. A few taps on your device ensure your products and environment remain in optimal conditions. Be sure to check if your device meets the minimum system requirements for the best user experience.
Don't miss out on this exceptional opportunity for humidity control and environmental monitoring. Scan the QR code to download the app, staying ahead in humidity control and ensuring product quality and stability.
For more information, visit Our App(make it click and link to:  https://wisesorbent.com/wisesorb-app/)or contact our customer support team. Let's embrace a new era of humidity control and temperature monitoring together!